'Glue' to connect sensors to smart devices
We enable you to choose your own combination of sensors that matches exactly what you want your professionals to measure. This is possible with our PulseIQ® sensor platform. With the use of this platform, you are not dependent on one sensor supplier, and you can easily replace outdated sensors with state-of-the-art sensors. It also allows you to design your own custom app that exactly matches the needs of your professionals. Our sensor platform is also equipped with smart data-sharing software with which information can be shared between your people, without the need for a cloud connection.
Sensor agnostic
Because so many interesting sensors are being developed, it is almost impossible to select the ultimate sensor for your application. That is why we make it possible to connect and test multiple sensors:
plug & play link of custom-of-the-shelf sensors
easy integration of sensors
in accordance with existing standards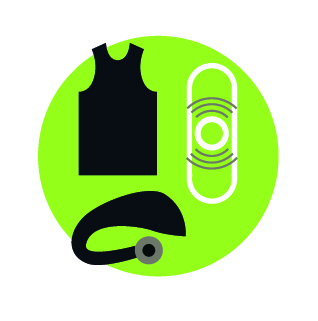 Plug & Play
The users of our applications work in dangerous conditions and under high pressure. That is why a new sensor should be able to be connected or replaced with minimal actions:
linking sensors with a 'bump'
NFC as the primary pairing technology
maintain robust connection after pairing and reconnect automatically after unexpected disconnection
Offline Data-sharing without Cloud
"Does it work even if there is no network? Does it work even if there is no GPS? " Our customers often operate in 'off-road' environments, front lines, war zones, where there is no signal or connection. Our mobile sensor platform is particularly suitable for these environments:
seamless transfer of information between mobile devices, spreading data across multiple devices
sensor platform also exists in an embedded variant for a mini-computer, or 'black box', which can remain on location or with the injured person
data can be forwarded in a SignalR format, so that it can also be sent when no cloud connection is possible

Do you want to know about PulseIQ®?
We are happy to tell you more about it!